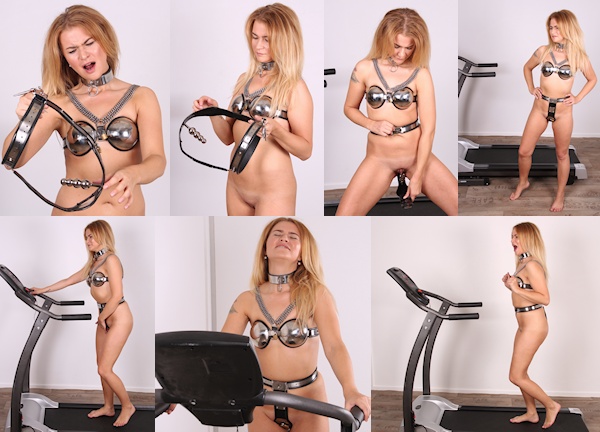 Remember Nikki? This curly haired blonde did a very extended Casting last April. She was locked in a tight belt and bra for a day, and after her Casting, she slept a few hours, showered, got dressed, and went outside!
Well, she is back for a new Challenge! Minus the curly hair. I never expected Nikki to take a Plugged Challenge, but she did! She agreed to help me investigate if it is possible to use the treadmill with a vaginal plug inside a chastity belt! You know I have been researching all sports to eliminate all common excuses for girls not to wear a chastity belt. So far we have seen that ALL sports are possible in a belt. Horse riding, swimming, fitness, and more have been featured on this site.
But is it possible to use a treadmill when you are Plugged? It's worth a try! After seeing Natalia Forrest run full speed on the treadmill in full chastity (with thigh bands!), nothing seems to be impossible! Nikki inserted the 4-ball metal plug with a lot of lubricant (important when you are going to run!), and she was surprised at the sensations it gave her! When she started to walk, she had to adjust it a little, but after a few steps she was already getting used to it. The plug inside her made her walking and jogging movements very interesting! She got all excited from walking on the treadmill! After her little workout, I allowed her to take off the belt (also to prove she was really plugged on the treadmill, no cuts in the video), and the plug was very wet! I guess it is possible to walk and run with a Plugged belt. It even makes exercising much more fun! Another excuse busted! All girls should be locked in chastity belts all the time (quoting Cobie, and I agree)!!