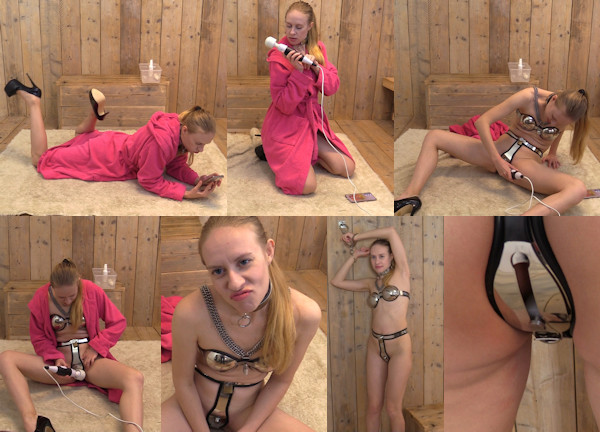 You can't leave double plugged models alone for a second!! Nikki was waiting for her Casting to end, with a huge plug in the back and a smaller one in the front, so she got a bathrobe and her phone to sit out the 4 hours.
But when I came in, she had gotten her hands on a magic wand and she was trying to vibrate herself through the belt! I don't know where she got the wand from, but it was clear that she was having a lot of fun! The magic wand made the plugs vibrate inside of her, and someone like Nikki could probably orgasm from this eventually. Even worse, she discovered that she could get a bit of her finger under the belt. Not enough, but I couldn't take any more risks.
I took the wand away from her and cuffed her to the wall. With girls like Nikki I don't want to take any risks! Orgasms can't happen in Castings! Geez, it's only 4 hours, how horny must she be! Well, of course, she was double plugged, I get that, but still… what a naughty girl!