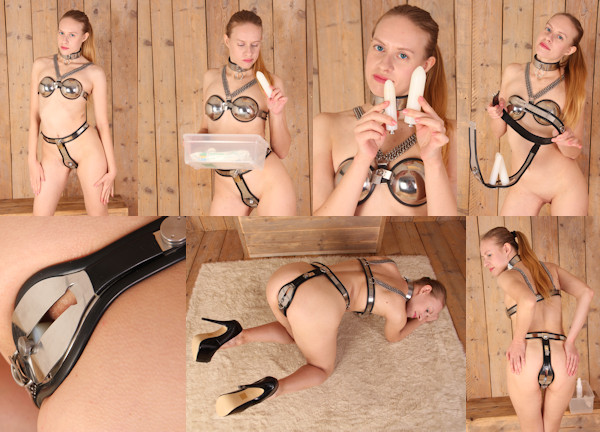 1000 updates! I never expected to reach this number when I first started this website many many years ago! I am very grateful for everyone's support throughout the years, without member support I couldn't have promoted female chastity as much and for as long as I have done! Thank you so much!
I am not stopping anytime soon though, let's continue with a new model and a new Casting today: the amazing Nikki Riddle is here to do something no one has ever done before! I locked her into a NeoSteel belt and a chastity bra, and the long legged blonde was still getting used to it, when I came in with a box containing two NeoSteel nylon plugs (one big and one small) and a lot of lube.
Nikki was a little confused, but then she figured out the plugs would go inside of her belt. Amazingly, unlike any girl before her, she wanted the large plug in the back and the small one in front!! This would be a very interesting variation for me to study. I love testing out new things like this to see how a girl can move, walk, bend, sit, and more, while wearing chastity, especially with plugs.
A huge plug in the back! Wow, I had never even considered this, and neither did NeoSteel when they sold these plugs. The small one is the 'anal plug'. But I guess they technically could be reversed. Watch the video to find out how Nikki did with her self-imposed Challenge. Remember: a Casting is always 4 hours! This is one of the best Castings ever!