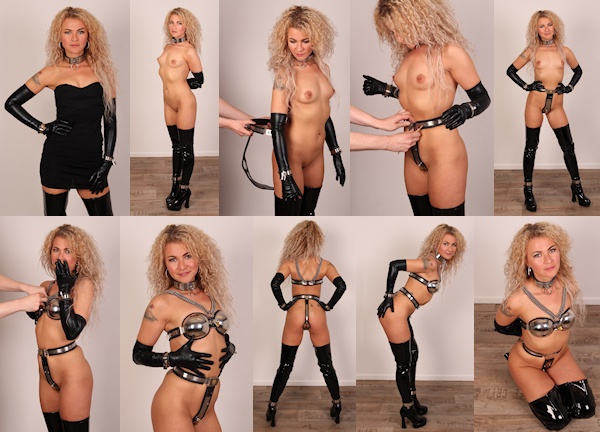 So many girls are writing to get a Casting, I decided to create a new Casting contract. From now on, if you are doing a Casting, you will be locked in chastity for the rest of the day and a night. The wonderful Nikki was the first to try this new format, and she was actually looking forward to it!
Nikki is a wild girl with an amazing body and great hair! She was wearing a little black dress when she came in, but I told her to add some thigh high boots and long gloves, since this was requested by some of you (you know who you are!). The boots and gloves were locked on with cuffs of course, so I had to lock her into a collar as well (or it just wouldn't look right). After all this locking, Nikki was ready for her Casting.
With the help of a lovely shoot assistant (not Dominique, but if you look closely you can see her in the reflection of the bra), Nikki was slowly transformed into a Chastity Babe. There was not much she could do, except watch herself getting locked into a chastity belt and a chastity bra. After all, she signed the Casting contract! Nikki would be going home with my shoot assistant for the rest of the day, but I kept the keys. The apartment was already taken by another girl, so I just gave them a camera and told them to go home and film the rest of the day, with the added condition that Nikki should go out in public at least for an hour!
It's great to have some people who help me with this website! It is crazy busy at the moment! I will need more shoot assistants who can take a girl home for 24 or 48 hours. email me if you are from Holland and if you are able to host a Chastity Babe for a day or two. Only serious applications though, last time I got so many strange emails!