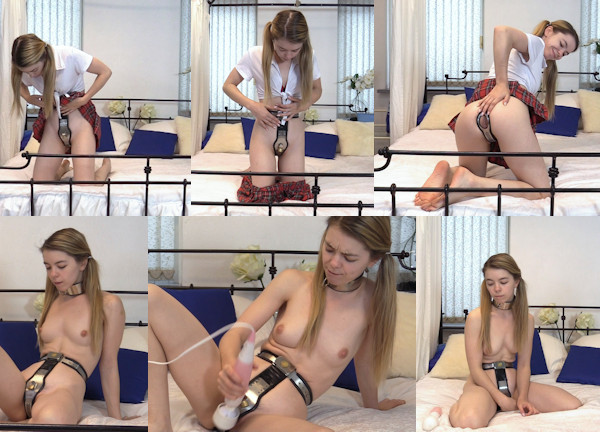 It's been a while since Lina Roselina appeared in our studio for a Casting. She is the tiniest girl ever, so it was hard to find a belt for her. Fortunately, I have some belts that can be resized to very small sizes. The waist on this belt is about 56 centimeters!
Locked in her tight belt and collar, school girl Lina will now perform the ultimate test. She will try to satisfy herself. After all, the purpose of a chastity belt is to prevent any satisfaction, and give away control. With the keys safely in my back pocket, I filmed Lina as she tried to figure out a way to get her fingers under the belt.
She was planning to have an orgasm in the belt, but soon her goals changed to just being able to touch herself. She couldn't do it, the belt was just too secure and tight. Then she grabbed a magic wand and started vibrating the belt on all sides. On the front, on the side of the shield, even on the back. There was not enough sensation to get aroused. Lina tried and tried, but she finally gave up. She was defeated by a chastity belt! So frustrating!!