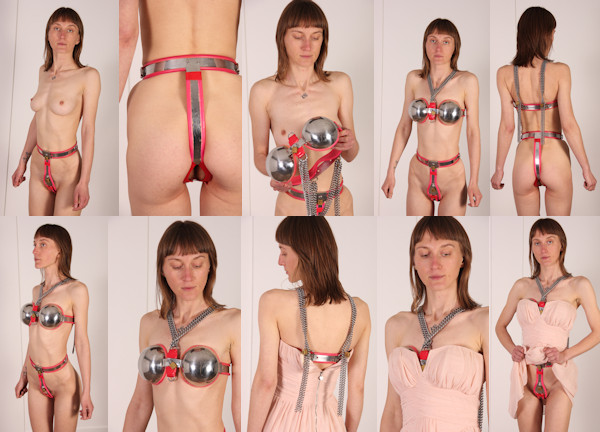 My new My-Steel bra and belt have been waiting for a model for some time now. The measurements are very strange, the model would have to be quite tall with a very small waist and huge boobs. Well, of course, small boobs would fit in a big bra too I guess.
Olympic swimmer South was in my studio for a shoot with another photographer when I met her. She is very tall, with an amazing athletic body, so I asked her if she would give my new 'steel bikini' a go. She said yes, but once she was locked into the chastity gear, she seemed to regret it already.
South is a very shy girl and she wasn't really sure what this Casting was all about. I tried to ask her a few questions but she didn't really want to play along. When I asked her if she would go outside like this, she said no and tried to find a dress in my studio that would cover the chastity gear. Unfortunately, the bra is very bulky, so that didn't really work at all.
I think she looked amazing in pink chastity! South might not have been impressed, but an athletic tall girl in chastity is always nice to have walking around in the studio. Maybe she will get used to it and open up a bit? Who knows!