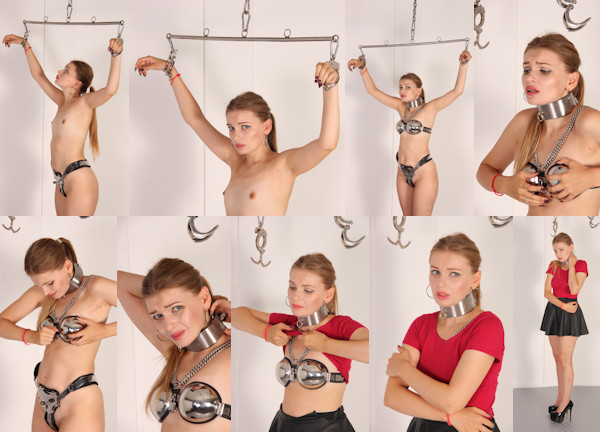 Seriously, is 'bra-ing' even a word? Anyway, let me continue to show you how to get a girl into chastity gear if she is a bit reluctant, like Anita here.
For some reason I thought it would be necessary to cuff her hands apart, using a spreader bar, so I could get the bra over her head. That doesn't make any sense of course, as I later realized, I could have just kept the overhead cuffing from the belting. Anita had to strip down from all of her clothes again, before I attached her wrists with double handcuffs to the spreader bar.
She was still VERY reluctant about the whole thing. The bra was cold, but there was nothing she could do to stop me from locking it onto her body. Next, I locked a big collar onto her neck, before releasing her from the cuffs. Anita tugged and pulled and the locks, but there was no way her chastity gear was coming off. She was in full chastity now, and the keys were safely in my back pocket.
So there you have it, as requested, it's just a matter of getting the hands out of the way and you can belt and bra your girl without any problems! Anita was still sulking when she put her clothes back on, but don't worry, she was fine! After all, a Casting is just 4 hours. She managed that with ease!