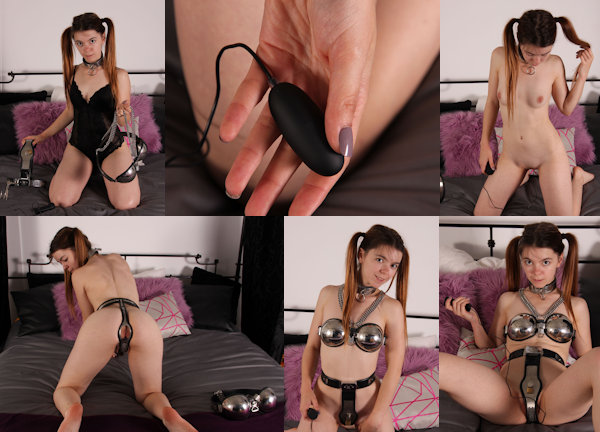 Tiny teen Lina Roselina appeared in our studio for a Casting! This 19-year old girl is very small, so I wondered if I even had a chastity belt for her. Fortunately, the fully adjustable belts can go very small so I managed to resize one to Lina's waist size. I also collared her and locked her in a resized chastity bra. The bra looked so huge on her!!
Before locking on the belt, I gave Lina a vibrating egg to play with. She really liked it! Especially at speed 2 (out of 4). Of course, it was still inside her when the belt was locked on. Now Lina couldn't remove the egg anymore, and all she could do is spend her 4 hour Casting time playing with the remote. She is a very horny little girl!
I came in to check on her, because Lina is very quiet. She is a little bit shy and very submissive, so there isn't much noise coming from her, expect for the buzzing in her belt. She certainly does not complain, like some other girls here on ChastityBabes.com!! Lina was still enjoying her level 2 vibrations, but I turned it all the way up to level 4 (very strong) and told her to spend at least 10 minutes like that. She was not allowed to touch the remote. A lot of girls would require some bondage or some other way to stop them from turning off the vibrations, but Lina is so submissive, she did not even think about touching the controls. She got so wet at level 4! I could see she wanted to touch herself, but she was locked in full chastity, her big eyes darting all over the place. She really enjoyed this Casting session!