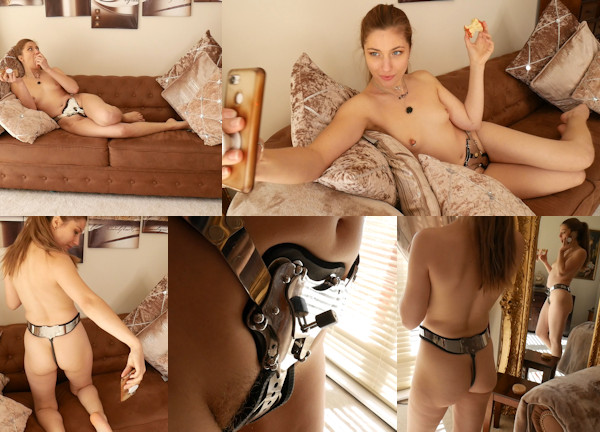 Yes, even Natalia Forrest sticks to the standard Casting time of at least four hours. It is very important for the girls to get used to the belt and after four hours they might feel completely different about a Chastity Deal, so it is wise to find out if they can deal with it before offering them a weekend in the Netherlands (or longer!).
Stephanie got on really well after her initial belting. She didn't shave, but that wasn't a problem of course for this Casting. In fact, I don't think you have to shave before wearing a chastity belt. And if you want to shave during your Deal, you can always ask for a cleaning break. Supervised of course, only shaving, no touching!
She was eating an apple while relaxing on the couch as Natalia filmed her. The belt seemed to be very comfortable for her, thanks to the Carrara's thick foam padding on the hips. Stephanie is a natural Chastity Babe, she likes a big challenge and she is always very happy and smiling!
This beautiful girl definitely needs to come over to the Netherlands to be belted for at least 4 days, instead of 4 hours. That would really put her to the test!