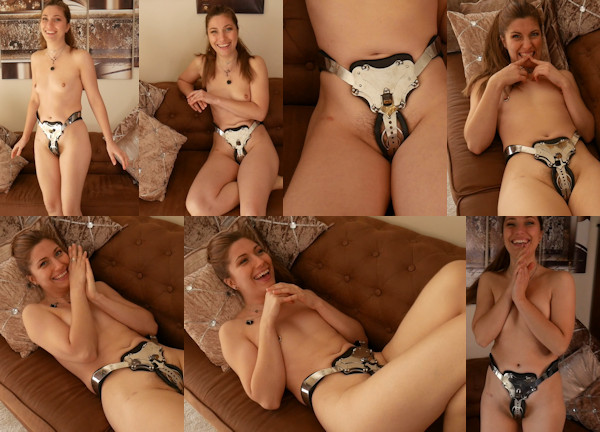 Casting sessions at Natalia Forrest's house are getting more and more crazy. She doesn't even give the models time to adjust, Natalia throws them straight in front of the camera, freshly belted and all confused.
Stephanie is a very pretty girl, and she looks amazing in a Carrara belt! She got undressed and belted as soon as she arrived at Natalia's house, and she walks towards the couch unsteadily and a bit giggly. Natalia talks to her about many aspects of the chastity lifestyle, things that hadn't really occurred to Stephanie yet, and she tries to listen while she gets comfortable in the tight belt. Her huge smile at Natalia's jokes are a good sign, Stephanie is already getting more relaxed.
But a Casting is always four hours, another thing Natalia failed to mention in her hurry, and Stephanie giggles wide eyed when she finds out. I think she is secretly quite kinky, with one nipple piercing ring, and a mischievous broad smile at her predicament! What a beautiful girl! I think all of Natalia's friends are awesome, but Stephanie is definitely on my list for a flight to Holland and a weekend in chastity and heavy restraints!