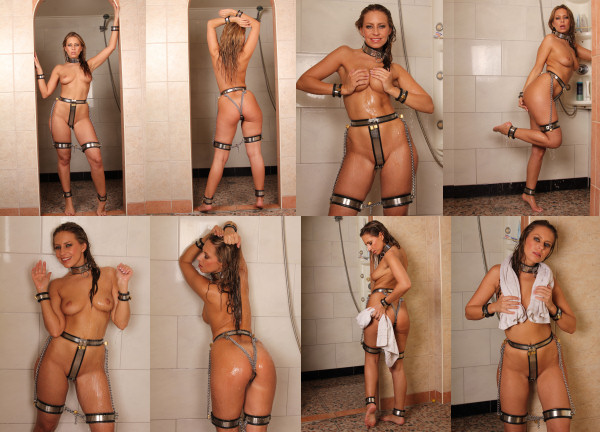 The incredible Vanessa is almost ours (or rather: yours, dear members)! We have been slowly adding more chastity gear, and she is actually starting to like it, instead of protesting and fighting. We know some of you would like to see girls in chastity belts fighting and tugging every second, but the truth is that most girls can get used to it and they tire of struggling sooner or later.
This time we added thigh bands to Vanessa's upper legs, a big step in becoming a Chastity Babe. Or rather, a small step, because now her stride is limited and she has to walk slowly and more elegantly. We also added ankle and wrist cuffs (she was already collared), but as we said: her training is still not complete. We think she needs a chastity bra too, judging by the way she is showering herself. Of course, members will decide if it will really happen, but full chastity seems to be the only way to tame this wild lady.
You can see by her smile that Vanessa is thoroughly enjoying herself in the shower, all the metal and bare skin gleaming and the chains rattling. No more pants for this babe, only long dresses and skirts. She wants to be a member favorite and get lots of requests, but will she still be popular now this website is starting to feature some of the most interesting babes and updates to date? We will see! Be careful what you write below, Vanessa is reading!