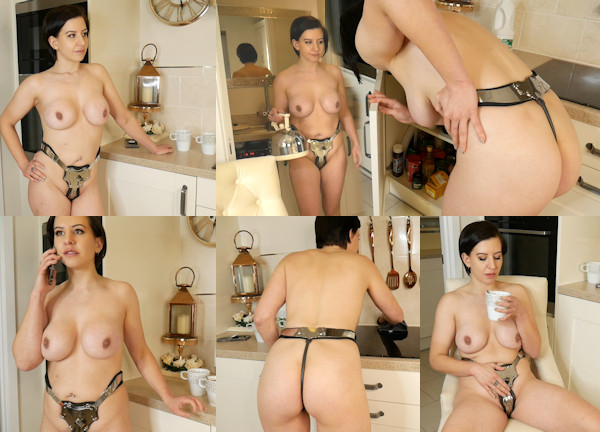 When I told Natalia Forrest the Castings should always last at least 4 hours, to get the girls used to the belt, and to record their reactions after being belted for a while, she took it very serious. No one will get out before the time is up. Maybe it's because I handled Natalia a bit strict in the past? She is now doing it to all of her UK friends.
Natalia is a busy girl though, and she likes to use her time efficiently. So she handed the camera to her husband and went to the shop, when poor Tindra Frost was still locked in the belt! Of course, she took the key with her (or she didn't bother to tell them where it was), so Tindra had to wait around for her to come back.
Usually, Natalia makes the girls clean her kitchen in the 4 hours, just to combine the waiting with something useful (and to film them moving around in the belt of course). But this time, she didn't tell Tindra to do chores. Funnily enough, Tindra made some tea (also for Natalia) and even cleaned the kitchen a bit, without being told to do so! I wanted to say she is really lucky with all these nude belted girls cleaning her house, but then I realized it also happens to me! I just had Rosie Mot vacuuming all of my stairs last week!
There seems to be a lot of cleaning going on when girls are belted. They just seem to be able to focus better!