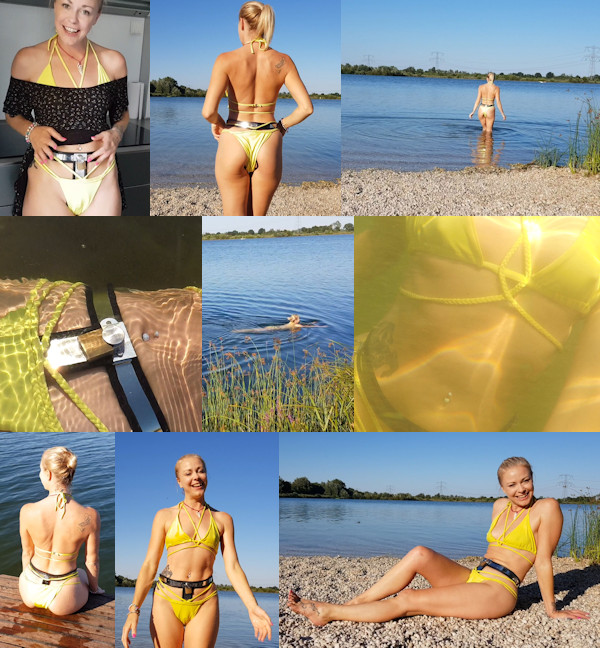 Summer is the perfect time for beach girl Lucy Lauren to come back to Holland for a 3 day Chastity Deal! She is so much fun to hang out with!
Lucy loves water more than anything else, and there is a heat wave in Holland at the moment, so 10 minutes after I locked her in the belt, she was already begging to go to the lake for a swim. She had put her bikini on top of the belt, hoping it would hide the metal a bit, but it didn't… Desperate for a swim, she kept begging until I agreed to go to the lake with her.
Lucy jumped in straight away and started swimming. She had the best time! When she sees water, she will go for it! I bet she would even go in the lake in the winter! She said swimming in the belt wasn't hard at all, and it wasn't heavy. Lucy actually thought it was nice to cool off the belt a bit, because it got so hot in the blazing sun.
It's a great video, because of the nice weather and because Lucy kindly filmed some of her swim on her action camera, which means we got some unique underwater shots as well! This NeoSteel belt was a perfect fit for her, and she was glad I picked this one for the Chastity Deal and not the ultra heavy steel belt I gave her last year.
I was a bit worried about the padlock rusting internally, but I guess we will find out in 3 days if the belt will still open! Lucy took a shower after we got home, and she tried to dry off as well as she could, so we will see! I am guessing she will jump into lakes and other bodies of water a lot more in the next days, it looks like the heat wave is going to last at least a week!