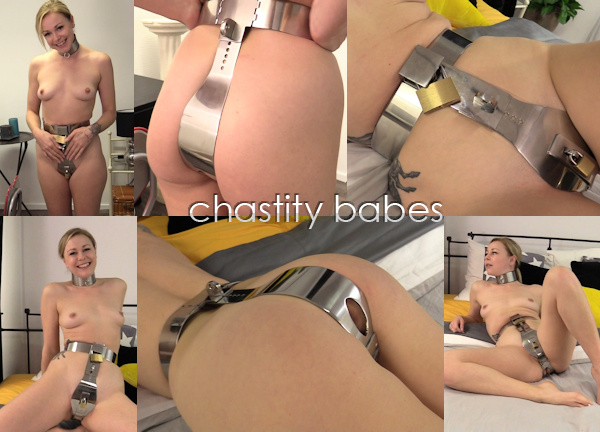 As you may have seen on her Twitter, Lucy Lauren was back for a little Chastity Deal! And I found a great belt for her! My custom made heavy steel belt was a perfect fit for her!
Sure, it is very tight on her waist, but that's actually called a perfect fit in female chastity. If the waist band is not tight enough, it can be pulled down, leaving a gap in the crotch area, which kind of defeats the purpose of a chastity belt. Lucy was so happy with her heavy belt! She did not expect to be in it for almost a day though! I don't think she understood until she was well and truly locked into the belt, and I started to explain why there was a little padlock on the vaginal slot cover. When she realized she had to pee through the belt, she finally understood that the belt wasn't coming off that day!
And it is not easy, the belt is very heavy, with no rubber lining. So moving around is hard. And I had a lot of tasks for her to do that day. This was going to be a very interesting Chastity Deal! But remember, she wanted this herself!!