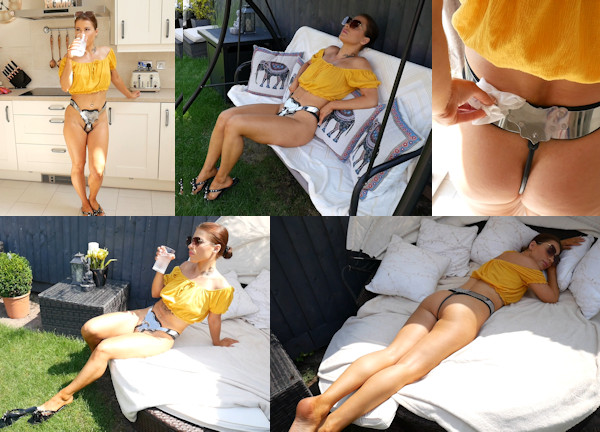 Maybe Alatna didn't pick the best day for a Chastity Deal at Natalia Forrest's house. It was one of the hottest days of the year! There are so many problems when you're wearing a chastity belt in hot weather…
First of all, you want to drink a lot. That means you have to pee a lot. So you either have to get a supervised toilet break from your keyholder, or just pee through your belt (all belts have vaginal slot perforations for peeing, it is just messy).
And of course, you sweat more, and the sweat gets in the waist band, it's not easy to get it out. Alatna calmed down a bit after her initial hours, she was now more used to the belt, but it was still quite a challenge for her! She tried walking around in the garden, getting a tan (before she realized that might be a bad idea). She lounged on the swing bench, and strolled around in the sun. Alatna even took good care of the belt, wiping it off and making it 'nice and shiny' after she had been sweating a lot in the baking sun.
She was getting tired from this heat wave, and she finally fell asleep in the garden. She wasn't even half way yet! It's so awesome to see this stunning beauty go through all the phases of wearing a belt, from surprise to frustration to acceptance… Locking girls in a belt for the first time is always going to be my favorite thing!