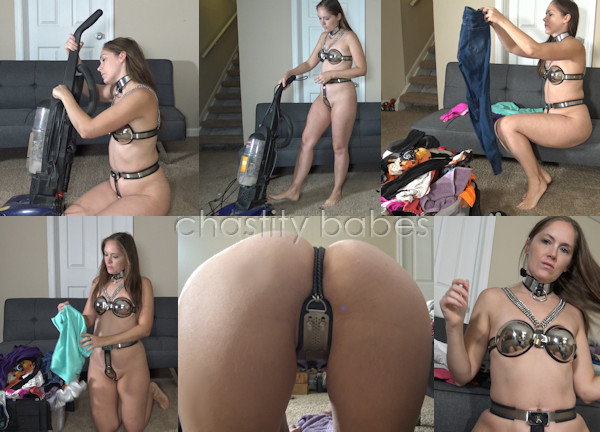 It seems so long ago since I saw Rachel Adams in London! Before the world ended, I was able to meet up with her, and give her a ChastityBabes.com birthday present: her own chastity bra!
Since then, she has been back in the USA, in quarantine, like most of us since mid March… not fun! No traveling, no touring, not much to do! But she found a way to make it more interesting. Rachel Adams loves very hard Challenges, so she decided to lock herself in her belt and bra as often as possible. This gear is very tight, but that's what she loves about chastity! The feeling of being restricted! It makes doing boring household chores a hundred times better! Try it at home if you want: you will see it will become more exciting to do your tasks, and you will notice an increased sense of focus!
Rachel gets out her vacuum cleaner (or hoover) and cleans the entire room. Then it's on to the most boring task in the world: folding laundry! Rachel lets us enjoy lots of interesting angles so we can watch her move around in her full chastity outfit, folding away huge stacks of clothes. Who said household chores are boring! Rachel looks amazing in her gear, and I hope she will send me a few more Daily Life videos soon!
Stay safe and locked up everyone, we will get through this time together! Feel free to send me your lockdown chastity home videos, pictures, or stories, I would love to hear how you are spending your quarantine time!