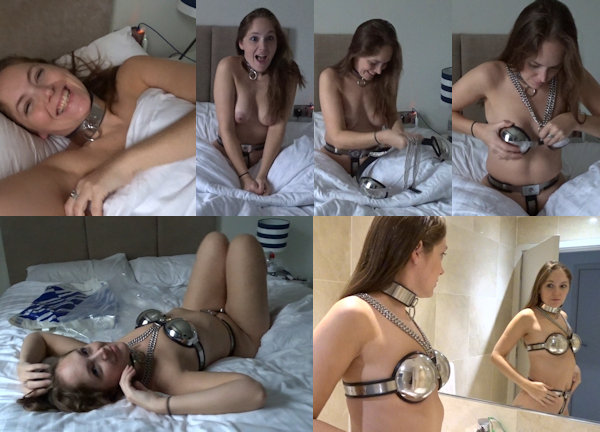 When I found out Rachel Adams was going to be in London, I asked her if she would be interested in spending some more time in chastity. I mean, London is not as far as the USA for me, so it would be easy to fly over there and have some fun with her!
I was wondering if she would do it, because it seems like every trip she goes on, I show up with my Chastity Deals. Surprisingly, she said she would really love to do a Chastity Deal in London! Rachel Adams really loves chastity! So I was off to the UK, and I found her already locked in her own belt when I arrived. She dutifully gave me the keys and said she had put it on earlier, waiting for my arrival. I locked a collar on her too (she loves collars), and she went back to her hotel room to get some sleep.
The next morning, I went over there early, because it was a special day. It was her birthday! Now, if you follow her Twitter account, you may already have seen what I got Rachel Adams for her birthday. I got her a brand new chastity bra!! She really loved it! So shiny and very secure. I already adjusted it to her size (maybe even a bit too tight), and she couldn't get her fingers in it at all. This bra really completed her outfit! Happy Birthday Rachel!
She locked it onto herself immediately, and I took the keys. I now held the keys to her belt, bra, and collar. Rachel said: "let's go sightseeing!!". She jumped out of bed and went into the bathroom to admire her new full chastity outfit. This was going to be fun: sightseeing in London with Rachel Adams in full chastity!