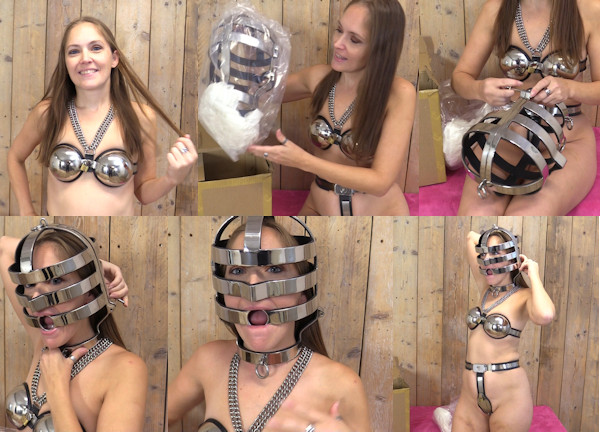 Rachel Adams is a super Chastity Babe! She was very keen on getting her very own chastity belt and chastity bra, and she is currently looking to upgrade her starter belt to a high-end custom made one!
She always brings her bra and belt when she comes over to Europe, as we often visit conventions together, and she wants to be on the promo team! Speaking of conventions, we had just returned from one of those, when I did this little interview with Rachel. You can still see some of the marks on her legs from the bondage suspensions she did on stage! She had a lot of fun! And… she even bought something for herself. A mysterious box had been traveling with her through Europe, and I couldn't wait to see what she had purchased at the last convention.
It turned out to be a heavy metal head cage! I'm not kidding, this was not me who bought it (I love metal gear and I usually buy a lot of it), this was Rachel Adams buying this for HERSELF! She was very happy to give me a demonstration of the device, and it was amazing. It is actually so small that the metal ring goes into her mouth. Usually these things are way bigger and the ring is not in the mouth. Rachel was so please with her purchase!
When I asked her how she would get it back to the USA, she was not even worried. And she was right, she just put it in her suitcase and no one asked about it. It is now safely at home in the USA with her, so if you want a custom video with this head cage, don't hesitate to contact her, it is an amazing piece of gear!