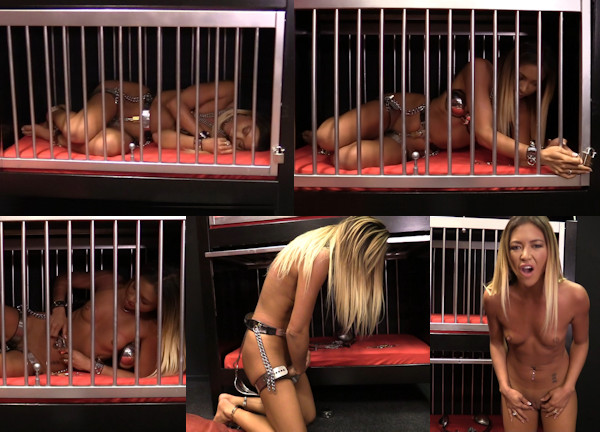 Oooh, I almost forgot about the extremely tight Chastity Deal with Natalia Forrest! After her 'punishment' time, she finally calmed down, so I let her sleep in the cage for a while. She was still very upset, because she felt it wasn't fair that this Chastity Deal had the tightest gear she had ever had locked onto her!
I managed to calm her down a bit, and she actually slept a little. The good news was that I was going to let her out, if she could manage to unlock all of the gear (and the cage) by herself. I brought her all of the keys, but she had to figure out which ones to use for her belt, thigh bands, bra, collar, cuffs, etc.
Natalia did really well! She has done so many Chastity Deals now, you have seen them all, and you can probably predict what she will say at the end of this unbelting video. Exactly: she screamed 'I WILL NEVER DO THIS AGAIN!'. Don't worry, she always gets tempted after a few months, she forgets how uncomfortable and frustrating it was, and the money starts to sound very good again.
I love doing Chastity Deals with Natalia Forrest, I still can't believe this gorgeous glamour girl would do something like this. She absolutely hates doing it, which makes it hilarious to watch, and she is very vocal, so we know exactly what is bothering her all the time. She will probably be back soon for more, or even sooner if you request a custom video with her! She will also keep locking Casting models in a belt, she has a lot of pretty friends who will come to her house to try the Carrara belt I loaned to her! See you soon, Natalia!