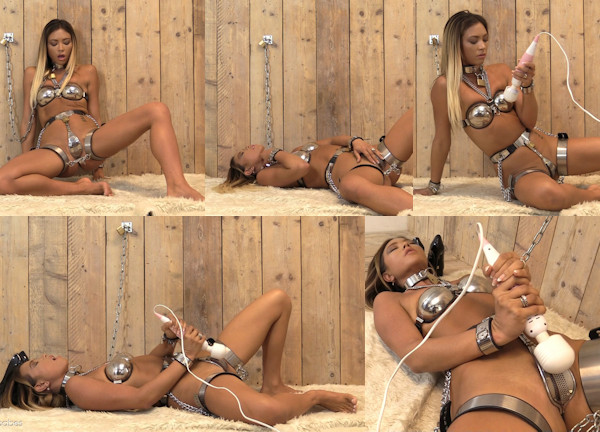 Natalia Forrest in a full Chastity Deal! It has been a while, so she forgot how much she hates the metal gear. She can hardly move, and she keep swearing because everything pinches and hurts. Not really though, she just likes to complain.
She was getting very annoyed, trying to get comfortable in her chastity gear, chained to the wall. To annoy her a bit more, I just threw a magic wand near her and left. She cursed, but tried it anyway. The FancySteel belt was so tight, she could not get anything under it, not even a finger. Vibrating next to the belt, on top of the secondary shield, nothing worked. Natalia could not feel anything.
She turned the wand all the way up to full power. It was very noisy, and it started to smell a bit funny. A burning smell, and the secondary shield got quite warm! She really grinded the wand onto her belt, but nothing happened. The only thing that she achieved was destroying the wand head. The perforated chastity belt shield worked like a cheese grater on the wand.
When I came in, she was getting really angry. Maximum frustration! The tightness, the discomfort, and not being able to climax, Natalia was already asking how much longer she had to be in the belt to fulfill her Chastity Deal. She was doing really well, and I told her that, but she was not in the mood. Natalia was getting very upset. I left her alone again, because I know she will start shouting at me, and I wisely avoid her temperamental moments. More Natalia Forrest tasks and challenges soon, I wasn't going to let her make that prize money so easily!!