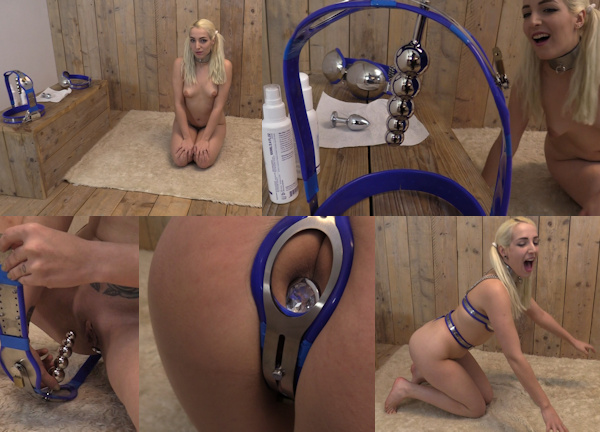 Liz Rainbow messaged me, asking to come back for 'some more fun'. That's amazing, since I had her in a pretty hard Challenge last time she was over. Liz is a very naughty girl, and she actually loves hard chastity Challenges, especially with plugs!
So I got her blue belt and bra ready, to match her blue hair, but when Liz arrived to the studio she had BLONDE hair! She really is a rainbow, her hair changes color all the time! No problem, we still went ahead with the Challenge: Liz would be wearing the biggest plug combination so far: a five-ball vaginal plug and a big buttplug (much bigger than the previous small ones I gave her). In a SUPER tight chastity belt and chastity bra. And then she would have to go outside!
Liz was very excited, she loves any Challenge in public. And she also loves plugs so much, she couldn't even wait to get in the gear. I let her figure out how to open and put on her chastity outfit. First, she inserted the huge buttplug, then she locked on her bra, and finally she slid in the huge vaginal plug and closed the chastity belt. It was so tight on her, the plugs were pushed all the way inside. She commented that the plugs were in each other's way, because they were so big inside her.
Because of the plugs and the tightness of her belt, she could barely stand up and was crawling around for a few minutes, moaning at the pleasure the plugs gave her with every movement. How would she ever go outside in this? She could barely walk, she was dripping with excitement, and she was feeling SO full! Remember, we tried this last time (with a smaller anal plug) and she couldn't move at all!