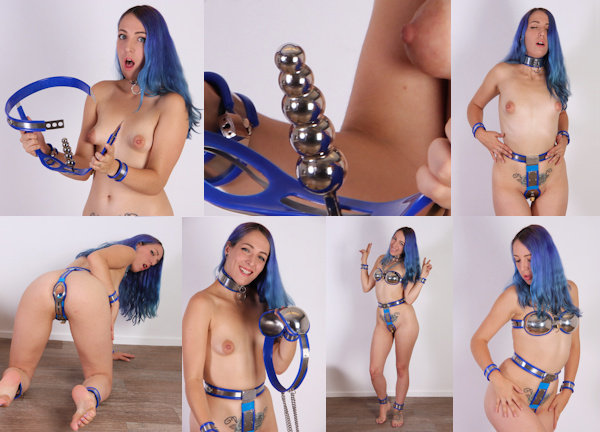 For the third time, Liz Rainbow returns to ChastityBabes.com. She was blonde first (with two huge plugs stuck inside her), then she was green (with a vibrating egg inside her belt and a buttplug), and guess what… now she is blue! Well, she is Liz Rainbow after all, I think we still have a few colors to go!
This fun Spanish submissive loves plugs and vibrators so much, because she gets incredibly horny wearing a chastity belt. So it is a lot of fun to put plugs in the belt, because it leaves her totally wet and unable to focus on anything. I always give her a jewel buttplug that matches her hair color, a little present from me (yes you can get a free buttplug too AND make lots of money if you do a Chastity Deal). It was quite a big blue plug!
Combined with the large 5-ball vaginal plug inside the belt, that really filled Liz up! She commented on how the tight belt pushed the plugs deeper inside her when she moved. And inside her the plugs were pushing against each other, making Liz very horny but also very careful in her movements. There was a lot going on in that belt and it was great to hear her moan whenever I asked her to sit down or stand up.
Of course, this blue outfit wouldn't be complete without the rest of the chastity gear, like a blue chastity bra, blue wrist and ankle cuffs, and a blue collar! And she even has blue eyes! It's just very blue! Watch the video on a TV to really make the colors pop, me and Liz just did that and it looked amazing! Stay tuned for more double plugged Liz fun!!