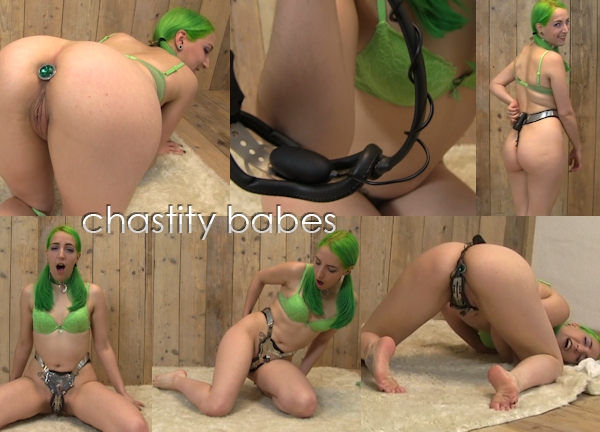 Liz Rainbow is back! She loved it here so much last time, she couldn't wait to come back again. Remember her playing darts in a double plugged belt, so tight she could hardly walk? Wow that was fun! She just loves getting plugged!
This time, Liz was very green. Green hair, green lingerie, she truly is a rainbow, such a colorful girl! The only right thing to do was to give her a big green jewel buttplug and tell her to put it in to complete the look. So much green! Liz loves plugs so much, especially butt plugs, but I wasn't going to use a second plug. Instead, I had a surprise in mind that would turn out to be even more fun!
I had attached a 4-speed vibrating egg to a Carrara chastity belt. The egg fit snugly inside the vaginal cup, and the remote control was taped to the back of the belt. This way, the egg would be pressed against Liz's clit very tightly. Liz inspected the belt, and turned on the vibrating egg. At level 4, this toy is super powerful!! She was a little scared, but I instructed her to lock the belt on.
You really have to see this video to appreciate how much fun this was! The super strong vibrations sent Liz to her knees within seconds. She couldn't remain standing. The egg was very loud because it vibrated against the belt. Even better, the back wire of the belt was pushing the butt plug in deeper AND making it vibrate too! Liz was completely overwhelmed! She came very fast, but the vibrator kept going. She tried to reach the control unit on her back but the sensations were so strong she couldn't turn it off because her arms had gone weak and her fumbling fingers couldn't press the buttons. All she could do is orgasm. I actually had to turn it off for her or she would have fainted! Wow, this was a lot of fun! Don't miss this vibration overload! It is one of the funniest things I have ever filmed!