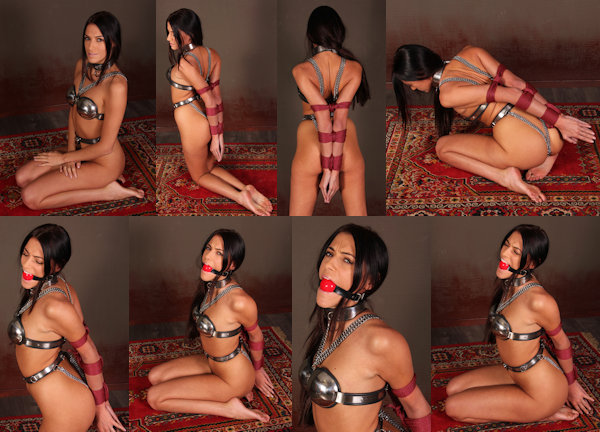 After her four hour Carrara mask Challenge, Britney had a photo and video shoot scheduled in my studio for Tieable.com. With her long arms and legs, she is perfect for rope bondage, and she has shot for that website before.
But much to Britney's surprise, I did not let her out of her chastity belt, chastity bra, and collar to do that shoot. She kind of expected that (she thinks I'm mean), but she also wanted to get out of the metal gear to focus on her rope bondage shoot, which was going to be very hard. Her elbows would be tied in an ultra tight position and she would be gagged. It always takes a lot of energy from her to deal with this kind of bondage, even though she is very flexible.
Now she had to deal with the chastity gear as well. I just thought it would look very cool with the ropes and it would teach her not to be so cheeky all the time. I know I challenge this girl quite a lot, but you haven't met her: she can be very bratty, even in the Carrara mask she wouldn't stop talking and joking around. I think she finally got what she deserved, ending her day with this incredibly tight bondage position that completely exhausted her. She wasn't talking as much after this shoot!