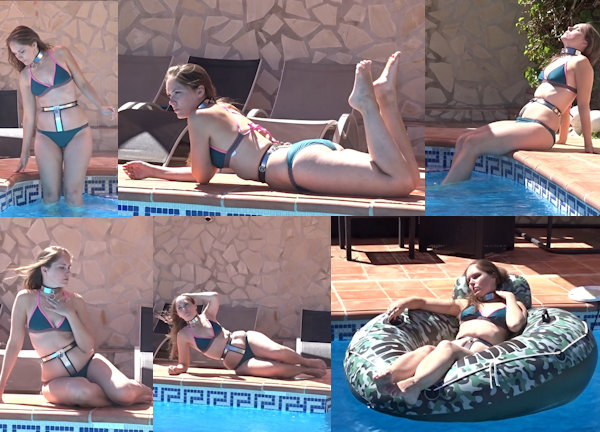 Such a nice holiday it was! Rachel was really getting enthusiastic about being locked in her belt. By now she had decided that she would definitely get her own belt when she returned to the USA. She could only see advantages: it made her more focused and less distracted while doing her social media and emails, and when wearing it during her shoots it protected her from photographers trying to sneak in a few open leg pics, so she didn't have to worry about her posing anymore.
She was funny about wanting to wear shorts, lingerie, or a bikini over the belt all the time. I told her a few times she did not need any underwear anymore, since a chastity belt basically IS the underwear, but she felt funny without her panties or bottoms. So she consistently wore them over the belt.
Rachel finally found some free time to relax by the pool, and she really enjoyed the sun and the water! In her bikini, she was lounging in her super tight belt. Then she got up and walked around the pool, testing the water temperature. A random floatie caught her attention and she decided to get in it. The strong wind made it hard to catch the inflatable, but Rachel managed to get it! Now she was in the pool, happily floating around in her chastity belt and collar. She never asked me to unlock the belt even once during her Deal. I guess she really loved her new steel outfit!