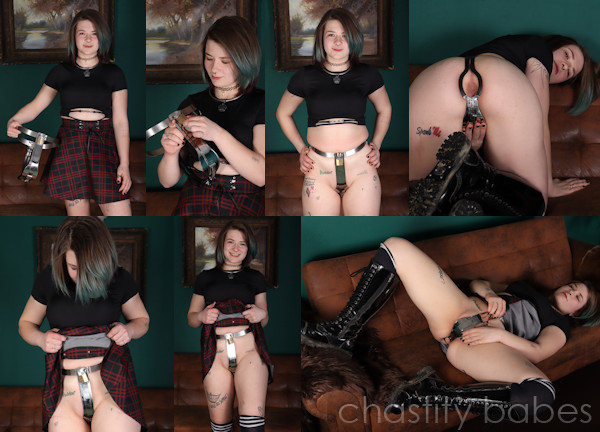 Cute goth girl Emily Addams has been obsessed with chastity belts ever since she saw one. And now, she has her own belt! You may have seen it in this update, as she literally had just picked it up at the NeoSteel booth at the fetish convention. The belt wasn't properly adjusted yet, but it already looked good!
It still needs a bit more adjustment, she wants it even tighter in the crotch area! Emily couldn't wait to show it to me in my studio, and she came all the way from Germany to proudly present her own NeoSteel to me. I love genuine enthusiastic Chastity Babes so much! And Emily is just the cutest. She is definitely going to wear this belt a lot. Emily is determined to getting used to being in this belt as much as possible!
She showed me how she puts it on, and how the collapsible belt can be taken apart. It has a high security padlock and the belt is made out of really thick steel. Lose that key and you are really in trouble! Follow her on social media to get more updates about her chastity adventures, she is awesome!