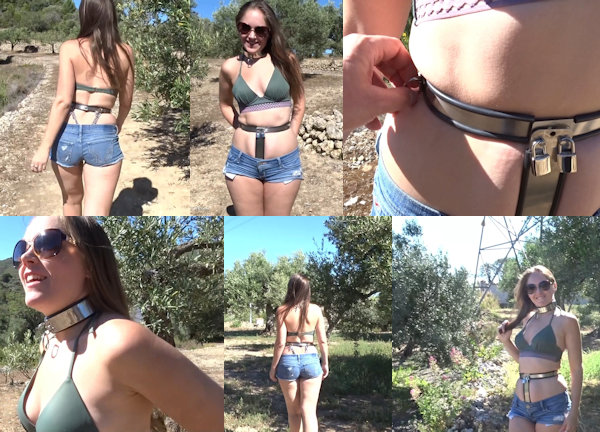 An entire week with Rachel Adams in chastity! It was so perfect! She was happily running around in her belt and collar, and the weather was great. She soon forgot about the belt (well, kind of) and she wanted to be more active and do things around the villa.
We decided to explore the olive trees nearby. The area was a lot bigger than we had expected and it had a lot of hills and strange terrain. It also had some pretty strange creatures! We soon got lost and we couldn't quite find our way back to the villa. Rachel did not seem to care, she loved being in Europe, and exploring Spain was all new to her. The culture, the weather, the food, she loved it! And being in a chastity belt in exchange for this stay was not a big problem for her. In fact, she started to love being belted! True story: when she returned to the USA she missed the belt so much, she got her own belt!
For now, she was in the chain style belt, which was super tight on her, but Rachel Adams can deal with anything. She is a bondage veteran doing extreme ties, so the belt was actually not a concern to her. Getting lost was also not a real concern, as she was just running around the orchard with me trying to keep up with my camera. She is such a happy girl when she is locked in metal!
Eventually, we found the villa again, which was a good thing, because Rachel wanted to get in the pool! I was really looking forward to seeing her in a bikini and the belt and collar! Stay tuned!