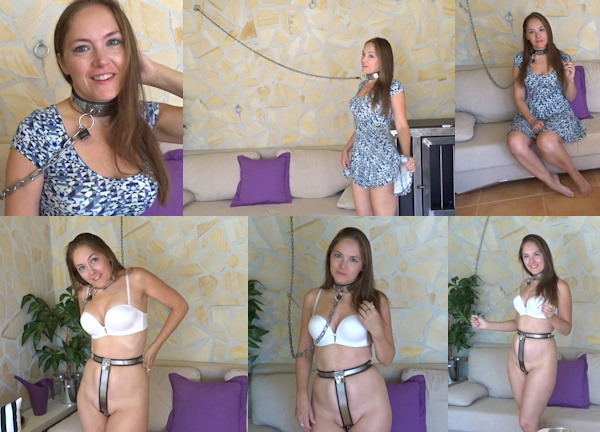 After BoundCon, I decided to have a little holiday again in Spain! And the awesome sweet Rachel Adams (who was of course on my promo team) decided to go with me, taking up my offer for a holiday Chastity Deal! 8 days in chastity in exchange for a great time in the sun! Many models have done this Deal in the past, and I am always amazed how well it works out!
Rachel is a very submissive girl, so when I chained her collar to the wall, she just said: 'I will just hang out here all day!', seeming very happy about her situation. The only problem was that I did not chain her outside in the sun, but indoors, in a very strange living room. This room had attachment points everywhere, and even a heavy duty cage! The chain wasn't long enough for Rachel to go outside, but I wanted her to spend some time in here first. I got her a drink and her phone so it wasn't that bad.
Rachel Adams was locked in the same belt she was wearing on the promo team, the double locked chain style chastity belt. It was tight and effective, she said with a cute smile. And she looked amazing in it! I told her to take off her dress and took it away so it was out of reach. We talked about what she was going to do on this holiday, and she said she would love to do some rope bondage! I knew she was going to be shooting with some photographers, so I told her the belt could come off if it was interfering with her shoots, but I would stay and watch so I was sure she did not touch herself!
Most of the 8 days (and 7 nights) she would be in the belt though, and Rachel seemed to be looking forward to that! She even wants to get her own belt in the near future! I think I have converted another babe into a real Chastity Babe!