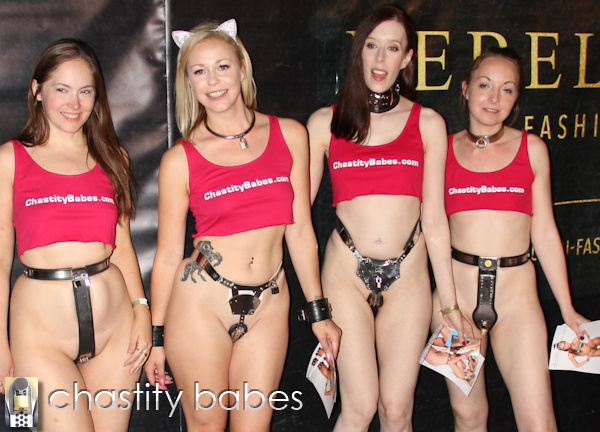 Before BoundCon, there were about 8-10 girls interested in being on the ChastityBabes.com Promo Team. That would have been some team! But scheduling issues always are a problem and I knew a mega team was not going to happen. It would have been too hard to get them all there at the same time. So I decided to make two teams, one in the afternoon and one in the evening, so more visitors could catch a glimpse of the girls!
The evening team was very international again! Pling from Sweden was still running around in her belt so I grabbed her to be on the team again. Then the lovely Rachel Adams (USA) wanted to join, and soon after the kinky UK cute girl Lucy Lauren showed up! And then Chastity Babe Cobie came walking into the booth in her brand new Carrara gear! She had been fitted with her own belt earlier, and she wanted to join the team wearing it! She was also locked in a Carrara collar, which was perfect of course.
The girls got cuffed again by a masked intruder, but they didn't mind, it was a great picture opportunity! The entire team went over to the Carrara booth, a big crowd of fans and photographers following them, and they got their pictures taken with the Carrara team! It was a great evening, and a very fun BoundCon! A big thanks to all girls from both Promo Teams! You did an amazing job!
Note: There are a lot more international guest stars in this update if you can spot them: Milf Gigi, Jim Hunter, Ariel Anderssen, Cuffkey, Zara Liore, and many more!