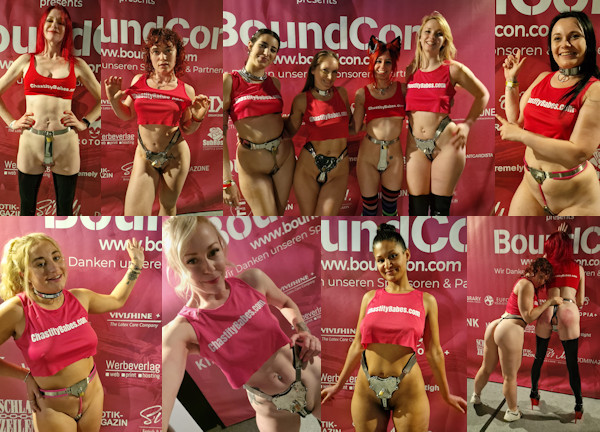 Having returned from BoundCon Munich, my head is still spinning! I was running around gathering girls for my promo team. Of course it is hard to get them all together at the same time, because all of the models have shoots and performances scheduled, but I tried to catch as many as possible, a bit like Pokemon :)
I got ELEVEN Chastity Babes this year, and I am very thankful to all the girls who have humored me by wearing a belt and my promo shirt. It was amazing! Of course, there were even some girls there with their OWN belts, which is even more awesome.
The girls on the team this year were: Moni (Germany), Rachel Adams (USA), Wetnesday (Spain), Lil Missy (UK), Alexis Luna (UK), Latex Rapture (Australia), Calisa Bliss (USA), Roxy (the Netherlands), Lucy Lauren (UK), ZoeyZiptie (UK), and Maya from the Carrara booth (the Netherlands)!! Download the pictures now to see them all in their belts, there's different brands like NeoSteel, Carrara, FancySteel and more! It was just amazing!!