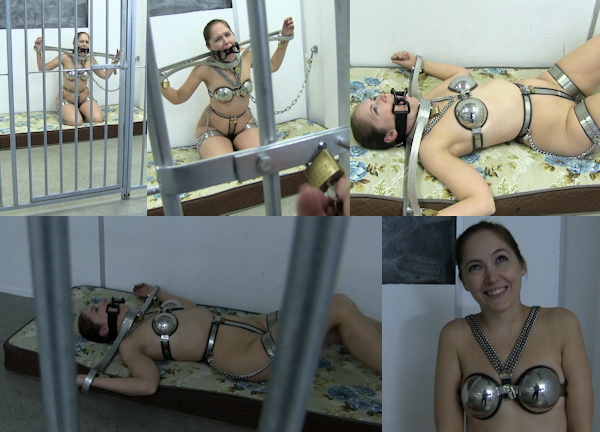 There have been a lot of worried people emailing me, asking why I was so hard on Rachel Adams during her Chastity Deal. There were also a lot of people who loved the fact that I was so hard on Rachel Adams during her Chastity Deal. Hmmm…
I just want to make it clear that you shouldn't be worried about Rachel Adams at all. If you are a fan of her work, you will know she is probably one of the toughest bondage models in the world! She loves hard challenges! In fact, what I did to her was mild compared to what she gets up to on other websites. She had a great time in Holland, and she would gladly come back for more time in chastity!
Still locked in her full chastity gear, the final challenge for Rachel was to get another nap. Even though the previous nap attempt failed, I wanted her to try again. So I locked her in a RigidStock and gagged her with the hugest spider gag you have ever seen. Instant drooling! Rachel tried to get comfortable, but I also chained her to the wall so she couldn't really lie down in the stocks.
I found her sobbing and drooling, she just couldn't figure out how to lie down. So I unlocked the chain and left her again. Rachel tried to take a nap, and maybe she dozed off for a few seconds at a time, but she did not get any real sleep with all this metal locked onto her. Some hours later, I decided to let her out. It was her final challenge, and she did so well! She deserved a real nap, without bondage (but still in all the chastity gear), before flying back to the USA. I really hope to see her again soon, she is so much fun! Rachel enjoyed it a lot, her crying is just a part of her experience, she needs it, and she likes to get into it! I think I will meet her soon at BoundCon Munich, I can't wait to catch up (and lock her in a belt!).