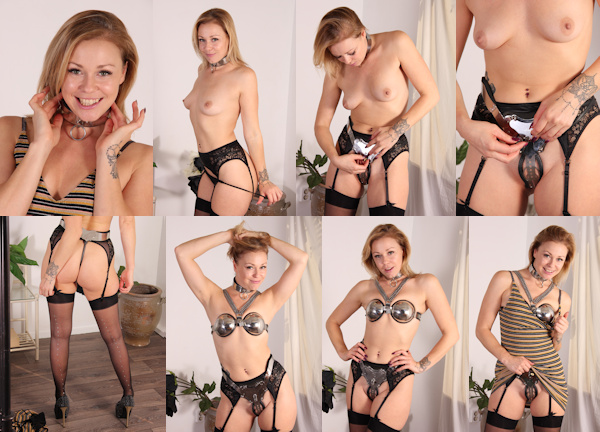 Lucy Lauren is a kinky girl from the UK who wrote me an interesting email. I checked her out on Twitter and yes, she IS super kinky and submissive. Good!
Of course, I flew her over to Holland as soon as I could to get her into some chastity gear. When girls want to try it this much, I don't want to make them wait! Lucy turned out to be a lovely bubbly girl who is very openminded. I collared her as soon as she arrived and she did not even comment on it! Seems she is used to wearing a locked collar.
The chastity belt was new to her, she was so intrigued! I thought a Carrara would be a great belt for her, elegant and comfortable, and super secure! Lucy admired the belt and wasted no time to take off her dress and her underwear. She wanted to get locked up!
I explained how the belt worked, and Lucy managed to lock herself into it, it was a very nice and tight fit! She just loved it! I also showed her a chastity bra, which was even more intriguing to her, as she had never seen one before. She managed to lock herself into the bra too, and I had the keys safely in my back pocket. Lucy Lauren was completely secure, unable to touch herself. It was a strange experience for her, this naughty girl loves to rub and please herself!
One more surprise for Lucy: I told her to handcuff herself to the bed. She did not expect that. Now she was stuck without anything to do (her phone was downstairs), and she knew I wouldn't come back for while. Girls need to spend a few hours in the gear during a Casting (at least 3-4) so I can see if they are suitable for a Chastity Deal. All Lucy could do is sit and wait, in her tight full chastity gear….