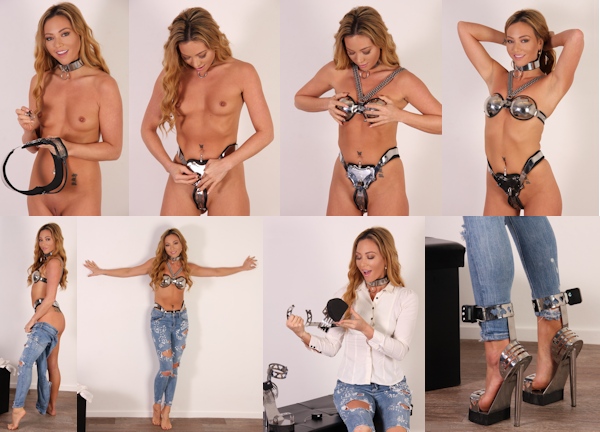 Many people have asked where Natalia Forrest is, one of the top Chastity Babes on this website. Don't worry, she still visits me regularly, and when she does, she knows she will be locked. She even often locks herself in chastity without any orders from me.
Natalia always asks if I have something new for her to try. Well, this time I laid out quite a nice outfit for her, with some things she hasn't tried yet. There is a custom made Carrara belt for her, a chastity bra (well she has worn those a lot!), and even steel high heels! Natalia was very excited to try this outfit, finally something new for her. She especially loved the comfort and styling of the Carrara, but as a high heel lover she couldn't resist the custom made heels either!
Locked in a collar (of course), a nude Natalia slowly but surely gets dressed and locked. She knows how to do this all by herself, she has done this many times. She insisted on trying on her jeans over the Carrara, and wow that was a great look! She put the heels over the jeans. They were locked into place with time padlocks, so she couldn't take the heels off. These heels are very hard to walk in, so that was a big part of her chastity outfit, and a huge challenge.
Gorgeous Natalia is always up for a Challenge, even if I sometimes make her panic a little. But not today! Natalia seemed to be in a great mood, and she really loved her Challenge outfit! I hope you love it too!