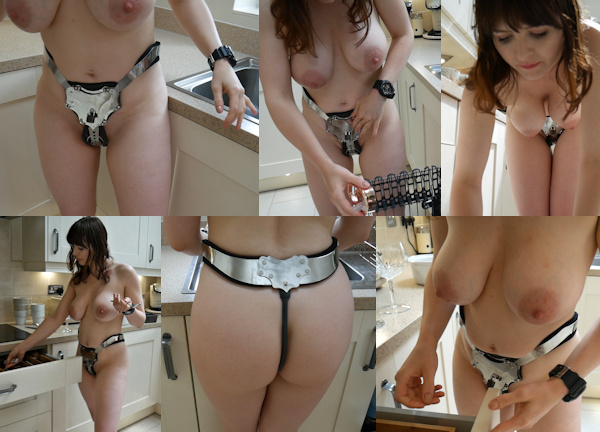 Natalia Forrest has done it again! She made another girl do her cleaning while hosting a Chastity Deal. Of course, I can not really criticize her for doing so, because I probably have done this myself, with girls staying in the Chastity Mansion in the Netherlands.
But still, it's starting to feel like Natalia (as a keyholder) is using the Chastity Deals to get her house cleaned. I know it is incredibly nice to have a big boobed naked girl like Lizzie Bayliss running around in your kitchen, locked in chastity and cleaning your mess, but maybe this is not the point of doing the Deals. On the other hand, I know myself that Deals are long, and you don't want your Chastity Babe lying on the couch playing with her phone for the entire day, as it will not make very good content for this website.
Making Lizzie clean the kitchen really shows off her incredible naked body with her giant natural boobs, as well as the tightly locked Carrara chastity belt. So what do you think? Should I allow Natalia to use her Chastity Babes like this? Or is it time to punish Natalia Forrest with a super tight (maybe plugged) Deal again? You know she will absolutely hate that, but I think she is having far too much fun locking up her friends.