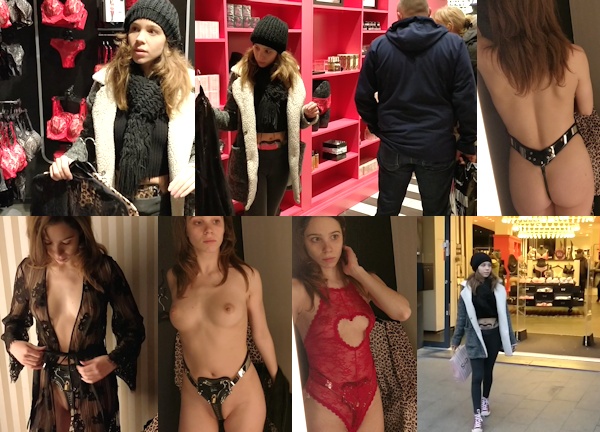 (Continued from Lizanne – shopping part 1). Not entirely satisfied with what she found so far, Lizanne continues her shopping spree in the high streets of a city in Belgium. It doesn't take long for her to find her next target: a lingerie shop! Lizanne loves lingerie, so she hurries inside to see if there's anything that gets her attention.
Sure enough, she picks out lots of pieces (all very revealing) and she is having a great time. But Lizanne is not buying anything without actually trying it on. Ever since she was locked in her Carrara belt, she makes sure to double check all clothes to see if they fit over the belt, and if they look good with a belt as far as waist lines and sheerness are concerned. It's important to think about these things when you are in a belt, but as Lizanne shows us it should be no problem at all for locked girls to buy beautiful underwear!
In the dressing room, she tries on the various items and wow does she look hot in some of them! Apparently Lizanne thinks the same because she walks out of this shop with a big smile and a pink bag full of purchases. Her Master probably did not mind going into the shops with her (and filming this for us), as he gets his belted girl wearing all this beautiful lingerie at home! Lizanne is a perfect Chastity Babe, with her own custom made belt that she has grown completely used to. She will hopefully continue to be on my promo team, as she is a great example for other girls. A chastity lifestyle does not have to interfere with daily life. Everything is possible in a belt (as we have proven many times here on the website) and you can still do what you did before you were belted. Even shopping!!!