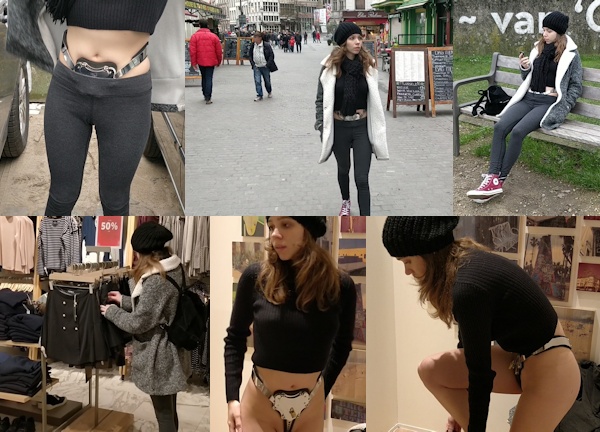 (Continued from Lizanne – morning). So interesting to see footage from a real life chastity belt wearer in their own environment! Lizanne driving in her car, locked in her own Carrara chastity belt, is very exciting to watch. She loves to challenge herself by wearing short top and low waist pants so her belt is visible in public, even when it is quite cold outside!
When she arrives at her destination (her plan is to go shopping for clothes), she casually walks around in public, passing many people with her belt clearly visible. The Carrara belt is shiny, so I am very sure a lot of people saw the belt. From my own experience, I know that a visible belt rarely gets any comments at all. Just some curious looks, but no one will actually say something about it. So it is quite ok to wear a belt in public (and actually very exciting when it's visible).
Lizanne takes a little break on a bench to check her messages before heading off to get a coffee, her belt peeking out as she sits in the little coffee shop sipping her drink. Then it's off to the shops!! She finds a cute skirt, but she isn't sure if it will fit and how it will look when she tries it on. So she takes the item to the dressing room, again passing many people, and she undresses in the little booth. We get a good look at Lizanne's perfect body, locked in her Carrara, as she tries on the skirt. Eventually she decides it's not quite her taste, and she goes to find more things to try on!
Girls and shopping! They sure take their time, which is great in this case, as it is very exciting to follow Lizanne around the city in her Carrara belt. All girls should take Lizanne's example and be unconcerned and happy to wear a chastity belt in public!