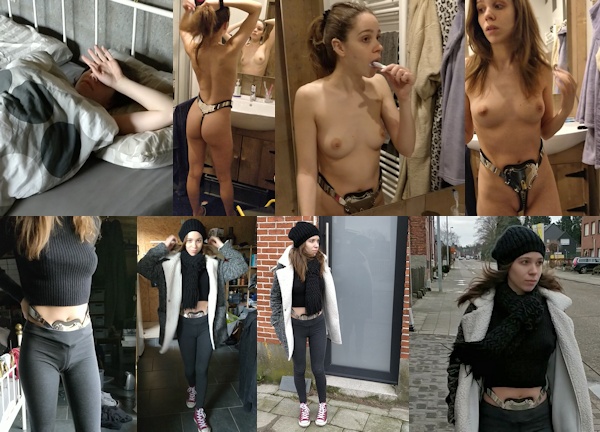 Many of you have asked how Lizanne is doing. Well, her story is a huge success for ChastityBabes.com! Initially, I cast her for the promo team in 2016. She was wearing my super small My-Steel hip belt and she immediately fell in love with chastity.
At BoundCon, I introduced her to Walter from Carrara designs. Since they are both from Belgium, I thought that Lizanne could be a great model for Carrara. Well, I was right! Walter loved her so much that Lizanne is now prominently featured on all of his marketing material. And Lizanne loved Carrara belt so much she literally told her Master she wanted to wear one permanently. So she now has her own Carrara belt, and she wears it (almost) all the time, asking for the key only for toilet and cleaning breaks. She loves being controlled, and her Master has the keys to her belt.
Of course, I just had to get this unique Chastity Babe on the site again, so I asked her Master to just video a normal day. Daily routine videos are the best way to show that it is perfectly possible to live a female chastity lifestyle. As you will see in this awesome footage, Lizanne has now gotten completely used to her Carrara. It is a very comfortable belt (on the hips) and she can bend and walk without any problems. I even wonder if she realizes she is wearing it.
This first video shows Lizanne waking up, getting ready to go out, and drive away in her car. Where is she going? Her outfit doesn't completely cover her belt, so it will be interesting if she is going out in public. Stay tuned!
Vertical video, great for viewing on phones!