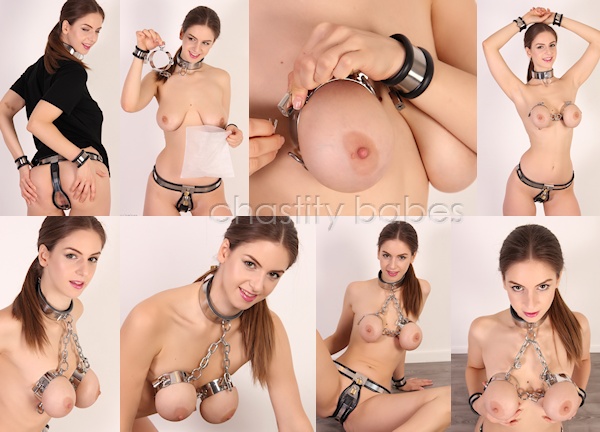 One of my favorite subs in the world is back for a new Chastity Deal!! Stella Cox is so much fun, I am tempted to keep her (forever) every time she comes over for a new Deal. She is so bubbly and happy all of the time and she is a genuine submissive (even though many people know her from other types of internet appearances). She loves sex A LOT so it is fun to lock her into a belt, she gets incredibly horny after even a few hours!
Ever since I met her, I have been planning to do something with her unique boobs. They are so big and cute at the same time! Stella's natural boobs are just perfect, and I wanted to develop a brand new custom set of restraints for them. It took me a few tries. In fact, when Stella was here last year, I had a set ready for her but they did not fit properly. So I have been continuing the development, trying to perfect these restraints, custom made for Stella Cox:
I can now proudly present: Stella's Boob Cuffs!! You won't find these anywhere else, they have been custom made for her! I was so happy when she came back for a new Chastity Deal, she would be staying at the Chastity Mansion for about 4 days! I wasted no time giving her the new breast restraints and Stella was as excited as I was!
She locked her boobs in the cuffs, and we figured out a way to support them by locking them together and then chaining them to her collar. So perfect! Stella could not take these off without a key, and I was not just her chastity belt keyholder, but also her boob cuff keyholder! We were both so excited to see how these cuffs would work in daily life. Sleeping would be hard (too hard?), but the support chain meant that she could run, bend over, and shake (dance) as much as she wanted. Stella is a very active girl so she was actually happy her breasts had some support!
Stay tuned for more episodes from Stella's amazing boob cuffs Chastity Deal, as I added plugs and some other Challenges to keep her excited and occupied during her stay!! Don't miss this unique update, it's definitely worth supporting my little site so I can continue creating new things and ideas for the community!