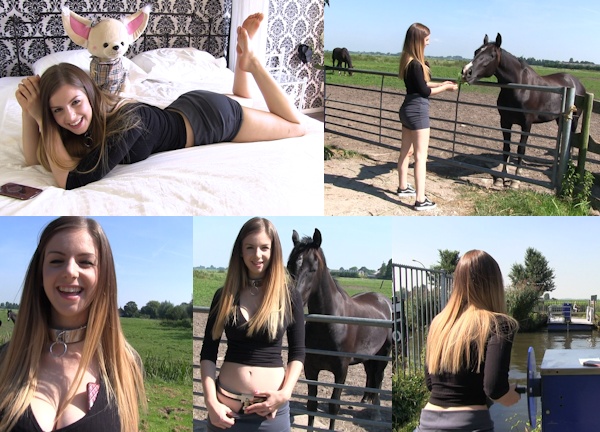 Yes! I finally managed to get Stella Cox back over to Holland for a few days of fun! She is so busy! Google her if you want to know why she is busy, but don't do it at the office :D
Stella is one of the cutest and genuine girls ever. She is also one of the horniest girls ever. She masturbates at least three times a day, and she was a little hesitant about a Chastity Deal. She didn't know if she would even survive being in chastity (both physically and mentally). She needs her orgasms!
It's fun to lock a sexual girl in a belt, and Stella did not even know when she would be let out again. Of course, she knew when her return flight was, and that would give me about 2 and a half day to test her limits. Stella was immediately locked in a hip-style My-Steel and a collar. She was just hanging around in my studio for the first few hours, but the weather was so nice and hot, I decided to take her outdoors.
Stella was really excited by the thought of going outside in her belt, and she did not even mind the collar at all (even though it was clearly visible for everyone to see). We had a great time, visiting some horses, and discovering a ferry that is manually operated. There were a lot of tourists about, and they were all looking at Stella. The belt wasn't really visible, but she has spectacular natural bouncy boobs and she is just a stunning girl. We tried operating the strange ferry, and Stella really got into turning the wheel to get people across the canal. She is so funny! Stay tuned for more outdoors fun with Stella!