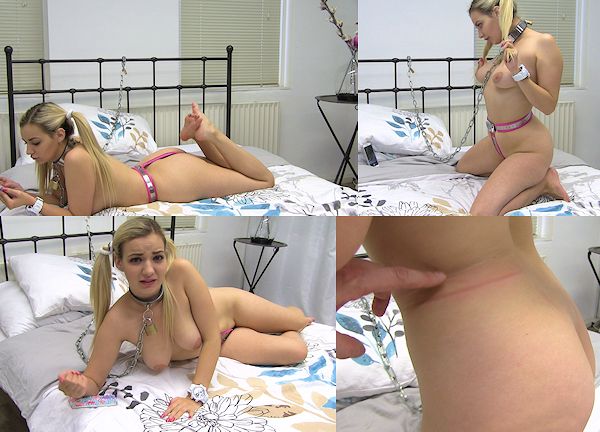 So I let Dolly get used to the belt for a few hours after her initial belting. She was chained to the bed by her collar wearing nothing but her belt and she accepted it as part of her Casting.
I left her there for a while, and (like most girls) she just killed time with her phone, taking selfies and chatting to friends. She took a lot of selfies of the belt's anal opening, and she later told me she was fascinated by the fact that her ass cheeks were spread so open. It felt really weird, Dolly said. A tight belt will run the crotch strap very snug against the body, which indeed means your butt cheeks will be pushed aside. This is a strange and 'open' feeling, which I'm sure many female belt wearers had to get used to when they were first belted (please comment below). If you ever see a female belt with the crotch strap running OVER the butt cheeks, it's not tight enough.
Surprisingly enough, Dolly was the first girl ever to say that she will probably not want to do a Chastity Deal. She was very honest and told me she wouldn't be able to sleep like this. The belt was tight and she can't sleep without touching herself first. Also, she could only lie down on her stomach with this belt and she thinks her boobs are too big to sleep on her front. I told her to wait for the member comments on her Casting, maybe it would change her mind if many people really want to see her take a 3 day Chastity Deal.
But perhaps it's just too hard for Dolly. That's fair enough, it's not for everyone. My life goal is to get ALL girls in chastity ALL the time, but I may have to accept that this is really a very impractical fantasy. Still, I have been doing my best and I got more girls in chastity than I had ever expected. I will just keep going, trying to find girls that are really interested and willing to take longer Deals! If you want to sign a nice long Chastity Deal, just email me!!