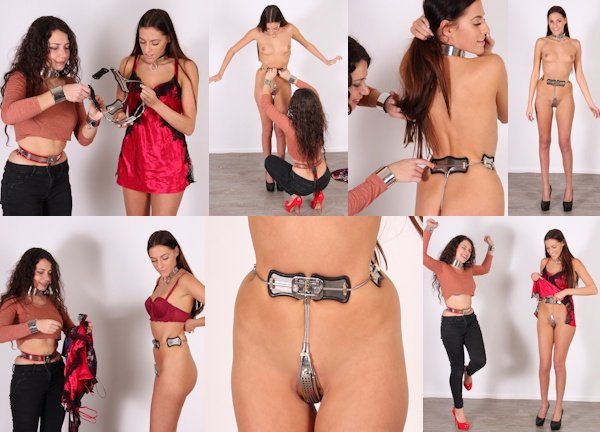 Remember the tall go-go dancer Britney from the UK? She did a full chastity Casting and she was dancing around in the studio with her amazing long legs! Well, she is back for more!
As Britney was in Holland for some dancing and modelling, I invited her over to try this new style belt I have been seeing on the Chinese webshops. I guess it is a copy of FancySteel's design, so I wanted to find out if it was any good. It took my assistant Anahí ages to assemble this complicated belt for Britney, and the locking system is very complicated. So it was not an easy shoot for all of us, but we finally managed to get Britney locked up in this tight segment style belt.
The front shield is very good, it really has one of the best shapes ever, although it may be a bit small. The belt itself can be made very tight by taking out segments and shortening the cables. Unfortunately, that means for slim girls (like Britney) that there are basically only four segments left, with two of them pressing on the sides. On bigger girls this belt should be a bit better, but the front shield is still quite small. The belt hides well under clothing, and Britney felt comfortable and free to move.
Anahí did a great job of fitting the belt on Britney. As usual, my assistant was locked in her red MySteel and her collar and cuffs. Britney thought that was very cool! She felt very comfortable talking to Anahí about her belt and she loved the attention she was getting. Having Anahí there as my assistant on shoots (especially Castings) really helps the models to feel more relaxed. This is a lovely shoot, don't miss it, check out the picture set and video clip!