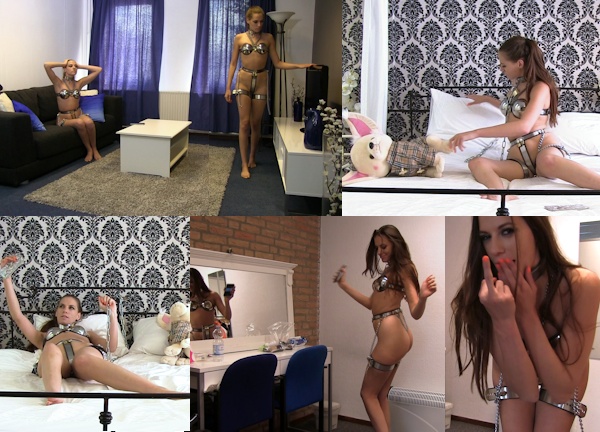 You will love watching Britney in full chastity on her Casting day. She is so cheerful, probably one of the most genuinely positive chastity babes ever! She truly did not mind her tight belt and bra, and she looks incredibly hot with her long legs and slender body, especially the thigh bands and her ass with the chain style belt is a very good combination!
Don't miss Britney waiting around on her Casting day, doing her makeup, spending time in her gear, even chained to the bed for a while by her collar, and just being silly in the dressing room. She is a dancer, she can't help it. She has to move! And yes, she was very aware of the cameras. She's something alright!
'But wait! Why did she spend a day in her chastity gear when it was only a Casting?', I hear you cry out. Shhhh, don't tell her it's not the usual way to do this! I just liked her in her full chastity gear so much I couldn't let her out so soon. Can you blame me? This is a super tall, fit brunette locked in lots of metal and wearing nothing else. In my studio. And she does not mind!
I will have so much fun with Britney when she comes back for her Deal. We have to think of ways to make it harder for her, or she will just whistle and dance through the whole thing! By the way, did you know she is a close friend of Roxy? I might be able to invite both of them at the same time for a Deal!