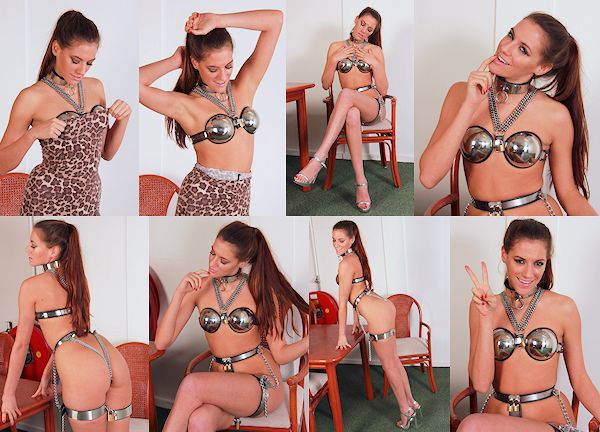 It's been a while since we had a UK girl come in for a Casting, but this girl was really insisting to be locked in chastity! I have never seen anyone who wanted to be belted this much! But read on… I found out why and how!
Britney has an amazing body. AMAZING. Her legs are truly endless and she is super slender and graceful. She did not seem to mind the extremely tight chain style belt I locked on her. She was so confident I started to add more gear: thigh bands, a very tight bra, and a collar. Britney said she loved it all very much. I did not really believe her, and tried making her wait for a while in the studio, so the reality of her locked gear could sink in.
After half an hour, Britney was still super confident, she is one of the most positive girls I have ever met. I had made the bra and belt as tight as possible, but she was still in good spirits when I interviewed her. I told her about the Chastity Deals and I said she could make good money if she would let me lock her in all this gear for 10 days. Britney was acting suprised, but she already knew about the Deals. In fact, she needed money very badly and that is why she came to the Casting and let herself be locked in tight gear.
But still, she is genuine and full of positive energy. And I really think she could do a 10 day Chastity Deal in all this gear. She is a flexible dancer, and she had no problems moving around, walking, even dancing in the gear. It was noisy of course, but that would not stop her from signing up. In fact: she wanted to sign a Deal during this Casting already! I told her this was just a few hours to let her get used to the gear, and that I would have to present this Casting to you (the members) to hear if you want to have her back for a Chastity Deal. She has promised to do a 10 day Deal in all this gear, without complaining or getting negative. Do you believe Britney? Would you like to see her try?