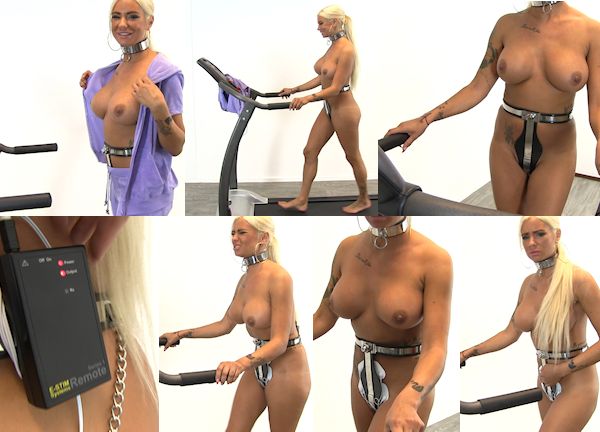 When I tried the new Access Denied belt on Ashley Bulgari, we planned to go outside with it to do movement tests. Always very important with new belts, girls need to be able to walk in them without any problems.
But of course, this is Holland, and it was raining (a lot). So I had no choice, Ashley had to go on the treadmill for the tests. Maybe that is a good thing, because now I could tell her to be naked for the exercise, and also… for some reason I always add the electro stim when I use the treadmill. Maybe it is just me, but it is extra fun to see a girl trying to focus on walking and being shocked at the same time.
Well, not really shocked, the electro pads give off an electronic stimulation impulse to the abdominal muscles. This pulse will get stronger and stronger, and Ashley's abs had to work really hard while she also had to focus on walking. Ashley was a great sport, she allowed all of this to happen to her, she is a very sweet and fun girl to work with!
Walking in the Access Denied was perfectly fine, she had no problems with it and she loved getting some exercise. But the shocking pads were a bit much for her. Eventually she even unplugged the cables to get a break! Of course, I plugged her back in, but she just stormed off, a bit angry. I guess she had enough of this fitness routine. Oh well, next time I need to remember to handcuff her to the treadmill!