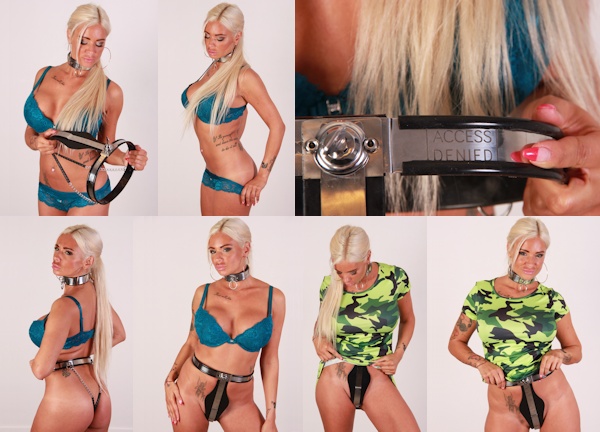 Meanwhile, here in Holland, I managed to get hold of one of the new Access Denied belts (as introduced here)! It is great to see the belt myself, it's a nice piece of work! The broad rigid black front shield is going to help a lot to prevent girls trying to get their fingers under the belt, and the improved radial locking system means extra security and no dangling parts (this belt makes no sound, great for public wear).
Of course, I had to find a girl to test this belt on, and I found out a dear friend was in the country to enjoy a music festival: the beautiful and sweet Ashley Bulgari! Do you remember her? She loved to appear on this website with her friends, and it was always pretty steamy with those belted duo shoots! But that was almost 4 years ago!
Ashley is still a head turner, her white blonde hair and big boobs drew a lot of attention when I picked her up. She was so happy to be back, even though she very well remembered that a visit to me would mean she would be locked up. Her close friends Melissa and Tiffany had been telling her about their visits, and now it was Ashley's turn to make her come back. Within a few minutes of entering the studio, Ashley was already firmly locked in the Access Denied belt. It looked so good on her!
We chatted a bit about the belt, and then she put on her dress over it. The lock is clearly visible under the dress, but the rest of the belt blends in very well. We were soon talking about other things, memories about past shoots, and other friends, she almost forgot she was wearing it. It is a very comfortable chain style belt! I can't wait to try out the rigid style version, because it is even more secure and I like the look of that one even more. Enjoy the sight of Ashley in this new belt!