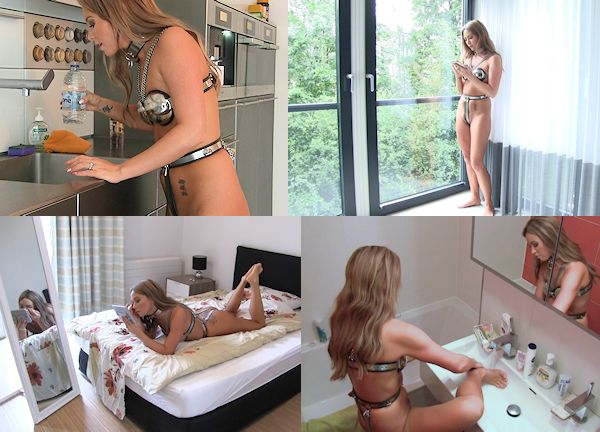 So how long was Natalia Forrest in her belt, bra, and collar exactly? Well, the Deal was for a (long) weekend, 3 x 24 hours = 72 hours. She has done longer Deals (for example 5 days), but it's always fun to have her around, watching her deal with the metal gear locked onto her body.
Natalia is never subtle. If she isn't comfortable, she will let you know (quite loudly), but she knows she will have to complete the Deal to get her cash, so her complaining is usually just to let off some steam. She will also cry, beg, threaten, and shout. On the first Chastity Deals with her, I almost let her out because of this. Now I know it is just Natalia, like we all love her. She is incredibly funny and a very nice person to have around, just a bit more expressive than most.
We had a lot of fun this Chastity Deal weekend, with Natalia running around the house wearing nothing but her steel gear. She had her good and her bad moments, like all girls during a Deal, but it was mostly good, and Natalia loved the opportunity to make some cash without actually doing anything. She was just on her phone, sleeping, showering, eating, and drinking. Maybe a little workout, and some other tasks, it was all going quite well as you can see in this video compilation.
However, I did make a little mistake that really upset Natalia… I don't know if I should even post that update (I don't want to scare future chastity babes), but maybe I will show it to you next week. Until then, enjoy this video of beautiful Natalia Forrest in full chastity!