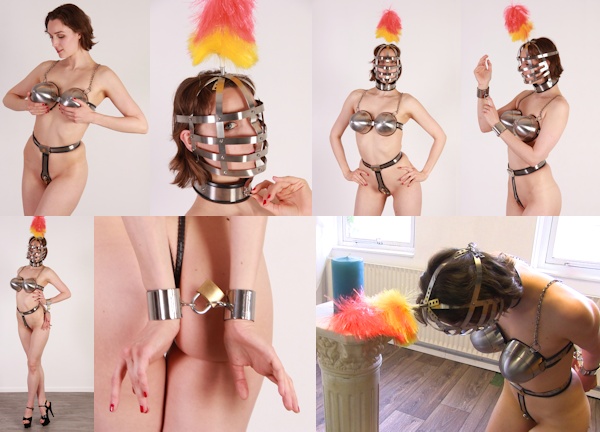 DutchDame wanted more, she got more!! A lot more actually. After being cast as a new member of the ChastityBabes.com promo team, DutchDame was locked in the huge chastity bra. Which she totally loved, as you may expect from a professional bondage and fetish model. The bra has really HUGE cups, and it looks amazing on her.
Then I wanted to try out a new device: the locking metal mask and collar. This is a very interesting design, with a locking collar, and adjustable head straps so it will fit very snug around the head. This will ensure no sexual activities can be performed with the mouth. It is FACE CHASTITY! It also has a decorative plume on top of it, which is very useful as you will see in the video. DutchDame was immediately in love with this face mask. She even wanted to try and have lunch like this (yes, she really is that kinky).
But before she could have her lunch, I cuffed her hands behind her back and made her clean the entire bedroom first. Because the plume on her head is just such a handy dusting tool. DutchDame eagerly got to work, and she was very good at dusting off every item in the bedroom with her head. This is the perfect training mask for chastity babes, everything is locked but that doesn't mean they can't make themselves useful! DutchDame did a really great job, she deserved her lunch, although I had to feed it to her through the mask because she couldn't use her hands either. This was a very interesting day. Let me know in the comments what you think about the head gear!