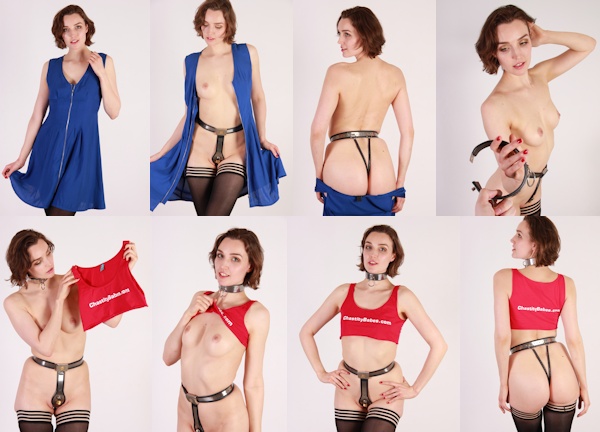 Meanwhile, BoundCon Munich is approaching fast, the biggest European bondage and fetish convention will be held again at the end of May. I have received a lot of requests to do another ChastityBabes.com promo team stunt, and after some deliberation I have decided to do that again! It was so much fun in the past years!
Who will be on the team? How many chastity babes? Well, that's a bit of a secret still (come to BoundCon to find out!), but today I can reveal one of the new additions to the promo team: the wonderful fetish icon DutchDame! I have been trying to get this tall fetish and latex model in a chastity belt for many years. She is from my country after all! And she is everywhere, on every BoundCon, at every fetish party, always dressed in spectacular latex or getting suspended in rope bondage. Who wouldn't want to lock this girl in chastity!
Surprisingly, DutchDame was very enthusiastic about collaborating, and she came to my studio for a Casting shoot. I locked her in a double wire style chastity belt and a collar to get her used to the feeling of wearing those items she will have to wear in Munich. DutchDame absolutely loved it! Of course, her dress had to come off so she could try on the iconic ChastityBabes.com promo shirt! This girl is super tall, as some of you may know, so she will be stunning at BoundCon, dressed in nothing but her belt and top, handing out flyers to unsuspecting visitors. Those legs!
Now, DutchDame is not just a model. She is actually very much into kinky things. So after this Casting, we took it a step further and I added a LOT more metal to her body. Check back here on Friday to see the awesome DutchDame in some very interesting gear!!