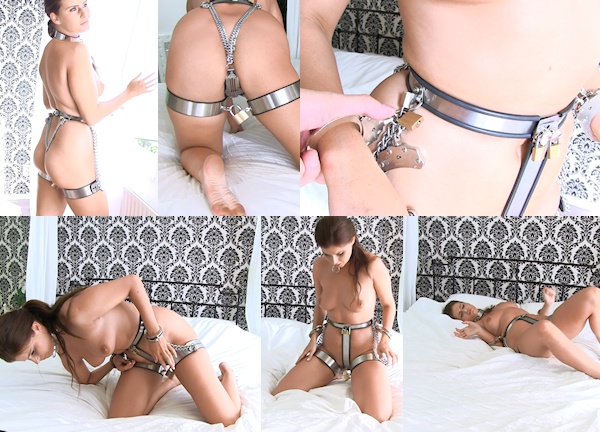 Just a little fun with Nelly this week, she was only over here for a day, but it was great to be able to lock her into a tight chain style belt and add thigh bands to her lovely legs!
She looked so gorgeous in the white room, sun streaming in through the windows, dressed in nothing but tight metal. Almost romantic. But she would have to spend quite some time like this (I was going to let her try a whole night), and the belt was so tight it kept catching her labia in the secondary shield. It was not easy for her to move around.
Still, I really really wanted to make sure she would not try to touch herself. So I added two pairs of handcuffs to the sides of the belt. Too much? Perhaps, but girls like Nelly are not to be trusted. They look so sweet and gorgeous, but they are very naughty! Her hands locked to her sides, she had great trouble getting onto the bed and under the cover. But she (kind of) made it. I checked on her a little while later and asked her how she was doing. Her English is quite basic, she actually said 'not so bad', when she meant 'not so good'. I told her she would be unlocked in the morning and left her to her fate. Well, at least I knew her fate would not include any pleasure! That should hopefully teach Nelly a little lesson… although she may need a lot more of these lessons!