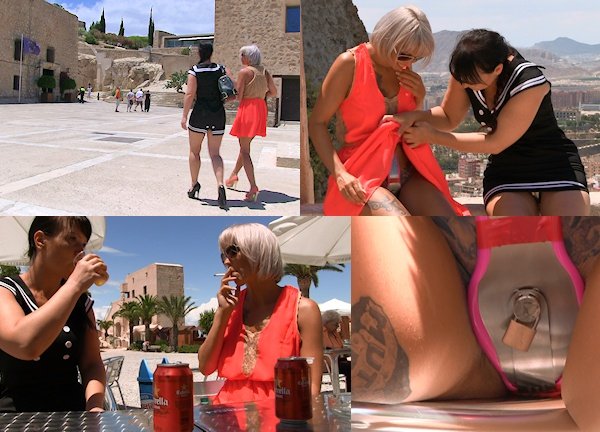 As mentioned before, when I arrived in Spain there were only 2 girls: Yvette Costeau and Lillian Caine. Yvette was already in her black chastity belt (she had been working very hard in the days before), handing me the keys while smiling. Lillian had never been belted before, but she was very curious about Yvette's belt. I unpacked my bags and showed her the blue and pink chastity belts. She immediately went for the pink (as most girls do)! In fact, Yvette was a little disappointed, she never had any choice, and now she was stuck with the black (literally).
We decided that the bras would be added later, when Rija Mae would arrive, and since we had the whole afternoon to ourselves, we went to visit an old touristy Spanish castle by the sea side. I asked Yvette and Lillian to wear a short dress and very high heels. Those shoes turned out to be more difficult to wear than their chastity belts, old Spanish castles are not very high heel friendly…
They sure got a lot of looks, since they weren't dressed as tourists. There were a lot of people there, and a lot of them must have seen the chastity belts, as they were very visible when the girls were sitting down or bending over. Lillian and Yvette were trying to get used to the belts, and after a long afternoon they really wanted out. They even tried hair pins to sabotage the locks!
After drinking a few beers, they finally realised that they were going to be stuck in the belts for 48 hours. Even worse: they needed to find a toilet (because of those beers in the hot Spanish sun) and they knew I wasn't going to give them their keys! It was a 48 hour 'no break' Deal!